Photo world
Product details
Hanging system of choice
Shipping costs & Delivery time
Acrylic prints
Our bestseller in a gallery-quality.

Ultra HD print thanks to a high-end eight-color printer from SwissQprint.

High-gloss Plexiglass® with a beautiful depth effect.

Direct print onto 5 mm Plexiglass®.

Printed with intense colors with UV protection against discoloration.
Custom made up to 200 x 140cm.

Razor-sharp details and vibrant colors.

Professionally milled edges.

Also available as two-piece, triptych and four-part.

Choose suitable suspension systems during the ordering process.
What is a photo on plexiglass?
Gallery-quality Plexiglas® wall decoration
Our photos on Plexiglas® are printed via direct printing behind high-quality 5 mm acrylic glass and then provided with a white layer on the back to make the colors stand out. We print with a high-end eight-color printer from SwissQprint, the market leader that offers the very highest quality. The ultra HD print on high gloss Plexiglas® has a beautiful depth effect and the clear edges of the photo on Plexiglas are professionally milled.
Intense colors on plexiglass
The pre-eminent characteristic of a photo on plexiglass? The intense colors and razor-sharp details in every format. The colors of the photo are the colors of the print on plexiglass. We print every color without mixing colors to avoid a green appearance on the print. We use high-gloss Plexiglas® that is guaranteed to remain clear for up to 30 years. In addition, the colors of the print are protected against discoloration, so that you can enjoy your colorful painting on plexiglass for many years.
Custom made
Your interior is unique. Therefore, determine the size of your photo on plexiglass yourself. Enter the desired size during the ordering process and drag the print area of the photo. The maximum size of a painting on plexiglass is 200 x 140 cm. Our photos on plexiglass are also available as two, three and four panels.
Hanging system
During the ordering process, decide how you want to hang your acrylic photo on the wall. You have the choice between an aluminum frame that remains invisible from any angle, a clamping system with stainless steel spacers or stainless steel spacers with holes in the plexiglass. The difference? The stainless steel spacers with four or six holes in the plexiglass or as a clamping system are clearly visible, while the aluminum frame at the back of the painting remains invisible from any angle. For large formats, we recommend the 20 mm wide aluminum frame, which is guaranteed to be fixed straight to the wall with optional screws or hooks, to prevent the plexiglass from bending. With one of our hanging systems your photo on plexiglass is guaranteed to hang professionally on the wall.
Multi-part Paintings on Plexiglass
Acrylic prints
Acrylic prints diptych
Acrylic prints triptych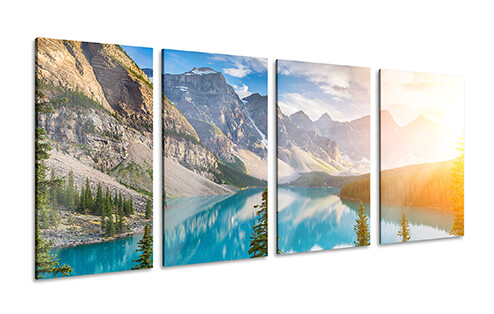 Acrylic prints four-panel
Hanging systems
Aluminum frame at the back
We glue a rectangular aluminum frame to the back of the plexiglass. This profile is always invisible when the photo is hung. This way the photo always hangs straight on the wall.
Stainless steel spacers Edge
The stainless steel edge spacers have been specially developed with a clamping system so that no holes need to be drilled in the plexiglass. You will need to make holes in the wall to attach the spacers.

The stainless steel spacers Edge are supplied as a set: 4 stainless steel spacers, 4 plugs and 4 screws.
Stainless steel spacers
The stainless steel spacers are designed for mounting our wall decoration and can be used with products with a thickness of 3 to 5mm. We will make the holes in the plexiglass for you.

The stainless steel spacers are supplied as a set: 4 stainless steel spacers, 4 plugs and 4 screws.
What will the shipping costs be?
We offer a free delivery for every order with an amount higher as £95.
If the order will be less then £95, we charge a shipping costs of £9,33.

Our products are shipped from Belgium. Please note that for international shipments to destinations outside the European Union additional import duties might be charged.

These prices are only valid for shipments within the mainland of the UK, they are also VAT included.

If the shipment takes place outside the UK or to an Island, we have to check what the shipping cost will be. In that case, you will receive an e-mail concerning the shipping costs that must be paid.
What are the delivery times?
In the chart beneath you can see the delivery times of our products


Delivery times can be postponed due to the holidays.

All our goods are shipped with great care and in-house with GLS, PostNL, TNT or Fedex.

Delivery time in case you order several different products.
If your order contains multiple products, the delivery time of the product with the longest delivery time applies. For example: photo wallpaper (2 working days) + Kitchen splash back in glass (20 working days) = a delivery time of 20 working days. We do everything we can to produce your order as soon as possible and to prepare it for shipment.

View all delivery times here
Feedback
VICKY NOBLE
By: 14-12-2020
I am so pleased with my acrylic artwork and the decals you produced for me. Absolutely stunning and perfect for my home. Really good quality, clear and well made.
Steven
By: 31-10-2020
Acrylic prints stunning, better than anticipated, cannot fault you, in the good books with the missus. Great communication, tracking and delivery. Thank you
Lady K
By: 12-10-2020
I love my acrylic picture! It looks fab! The colours are rich and vibrant. Great quality, quick delivery. Would definitely recommend Nikkel Art
Peter
By: 12-04-2020
I ordered an Acrylic print using my own photograph of wild flowers. On seeing the sample I decided to use a different photograph. Nikkel-art were fine with this and the result looks fantastic. They advised me on suitable adhesives to fix it and I am delighted with the result.