We all spend a lot of time indoors. From kitchen, living room and bedroom to gym or office. We spend most of our time indoors. Therefore, create an interior that meets your taste and where you like to stay. With our personalized photos on durable Plexiglas you add a unique and modern eye-catcher to any room.

Be inspired by the millions of high-quality photos from our range. You will find all kinds of animals, forests, landscapes, iconic places like Brooklyn Bridge and so on. Choose the photo that best suits you and your interior and give your living room, bedroom, kitchen or workplace a new, modern look. The depth effect of the finish on Plexiglas creates a realistic effect, as if you can step right into the photo with vivid colors.

Personalize your UV-resistant photo on Plexiglas by dragging the print area and entering the desired dimensions. Decide for yourself how you hang your personalized wall decoration on Plexiglas on the wall: with an aluminum frame that remains invisible from every angle, with a clamping system or with stainless steel spacers in the Plexiglas.
Production time: 4-5 workdays
mehr
weniger
What our customers say about us
Martin Waterhouse
By: 22-10-2021
Another order delivered, and good quality. It's a pity you do not do the 200cm x 100cm size anymore though
Mark H.
By: 22-10-2021
I have ordered several acrylic pictures in various sizes, and have been very pleased with the quality and value as well as the speed of response. The website can be a bit clunky, particularly for larger sizes, but it is worth persevering.
Barry Scott
By: 26-06-2021
We have had five acrylic prints, all custom sized, over the past 18 months and have been delighted by the excellent quality of all .The delivery period was also prompt and within the stated period, first class.
Emily
By: 07-04-2021
Excellent service. I will definitely order again.<br />
Acrylic prints
Bestseller in a gallery-quality.
Ultra HD print thanks to a high-end eight-color printer from SwissQprint.
High-gloss Plexiglass® with a beautiful depth effect.
Direct print onto 5 mm Plexiglass®.
Printed with intense colors with UV protection against discoloration.
Custom made up to 43 x 31in / 110 x 80cm.
Razor-sharp details and vibrant colors.
Professionally milled edges.
Also available as two-piece, triptych and four-part.
Choose suitable suspension systems during the ordering process.
What is a photo on plexiglass?
Gallery-quality Plexiglas® wall decoration
Our photos on Plexiglas® are printed via direct printing behind high-quality 5 mm acrylic glass and then provided with a white layer on the back to make the colors stand out. We print with a high-end eight-color printer from SwissQprint, the market leader that offers the very highest quality. The ultra HD print on high gloss Plexiglas® has a beautiful depth effect and the clear edges of the photo on Plexiglas are professionally milled.
Intense colors on plexiglass
The pre-eminent characteristic of a photo on plexiglass? The intense colors and razor-sharp details in every format. The colors of the photo are the colors of the print on plexiglass. We print every color without mixing colors to avoid a green appearance on the print. We use high-gloss Plexiglas® that is guaranteed to remain clear for up to 30 years. In addition, the colors of the print are protected against discoloration, so that you can enjoy your colorful painting on plexiglass for many years.
Custom made Acrylic prints
Your interior is unique. Therefore, determine the size of your photo on plexiglass yourself. Enter the desired size during the ordering process and drag the print area of the photo. The maximum size of a painting on plexiglass is 43 x 31in / 110 x 80cm. Our photos on plexiglass are also available as two, three and four panels.
Hanging system
During the ordering process, decide how you want to hang your acrylic prints on the wall. You have the choice between an aluminum frame that remains invisible from any angle, a clamping system with stainless steel spacers or stainless steel spacers with holes in the plexiglass. The difference? The stainless steel spacers with four or six holes in the plexiglass or as a clamping system are clearly visible, while the aluminum frame at the back of the painting remains invisible from any angle. For large formats, we recommend the 20 mm wide aluminum frame, which is guaranteed to be fixed straight to the wall with optional screws or hooks, to prevent the plexiglass from bending. With one of our hanging systems your photo on plexiglass is guaranteed to hang professionally on the wall.
Multi-part Paintings on Plexiglass
Acrylic prints
Acrylic prints diptych
Acrylic prints triptych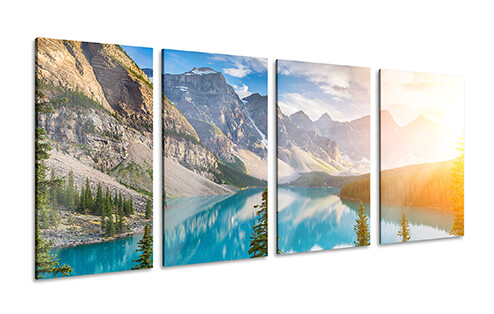 Acrylic prints four-panel
---
Print your best moments as a photo on Acrylic
Ever thought of a photo on plexiglass to immortalize your most precious memories? Your wedding, the birth of your children or that unforgettable vacation... These are moments you never want to forget. Have them printed on Acrylic prints to relive them every day. The brilliant colors and special depth effect give those special moments extra shine. Photos on plexiglass take you back to times gone by and are an original way to decorate your home. So much nicer than the umpteenth painting. So get those old albums out from under the dust or scroll through the photo archive on your cell phone. You're sure to find lots of great memories on acrylicprints.
Photo on Acrylic: a nice gift idea
A plexiglass painting is not only fun to decorate your own home, but also to give as a gift. Surprise your mom on Mother's Day with a beautiful family portrait or print a photo on Acrylic to celebrate your grandparents' golden anniversary. Or why not as a housewarming gift? The newly-moved couple will feel right at home in their new home. New parents will also undoubtedly be delighted with a plexiglass photo of their newborn. And which grandparent would not be happy with a family photo collage on plexiglass? You see, for each milestone there is a suitable Acrylicprint photo.
Acrylic prints for office and home
Family snapshots are always a good idea, but you can also choose to print one of our beautiful stock photos on plexiglass. The Brooklyn Bridge, a breathtaking mountain landscape or vintage world map, let yourself be convinced by the enormous choice. Do you have your own business? Even then a custom acrylic print can make all the difference. With a unique plexiglass photo, taken by professional photographers and designers, you create an inviting atmosphere in which your customers will immediately feel at ease.
---
Acrylic wall decoration
Plexiglas photos are actually the modern version of a painting. The photos are printed on high quality plexiglass with a thickness of only 5 mm. Thanks to the ultra HD printing, high gloss finish and professionally milled edges, our acrylic prints look particularly sleek and are therefore perfect for a modern interior. Want to make the gallery effect complete? Then choose when you order the invisible aluminum frame to hang your plexiglass painting. Because you can't argue with taste, we also offer you the option to order your photo on plexiglass in a custom size. This way you can be sure that your photo on plexiglass is shown to its full advantage. Small or large format, acrylic offers endless possibilities.
Prefer a photo on matte acrylic?
That is possible as well! A matte acrylic print is particularly suitable for rooms with a lots of (natural) light. In contrast to high-gloss acrylic, the matt surface will not reflect sunlight but absorb it. This way, the reflection is minimized. The big advantage is that your photo on matte acrylic will be visible from any angle. After all, you want to be able to enjoy your custom-made acrylic work of art at all times. Did you know that acrylic is also weather resistant? This means that you can even hang your matte photo on acrylic in damp rooms such as the bathroom. Whatever format you wish to order, with our simple editing tool it is possible to print your photo on matte acrylic in such a way that it fits exactly into your interior.
The difference between high gloss and matt acrylic
High-gloss and matt acrylic differ in appearance, but they also have many common features. Both materials will make the colors of your photo radiate intensely, as well as bring out the details razor-sharp. Just like high-gloss acrylic, matt acrylic is also printed on the back, after which the edges are then milled for a professional result. So much for the similarities. But is there also a difference? In addition to the previously mentioned difference in appearance, an acrylic print with a matte finish will be slightly thinner than its high-gloss counterpart. However, it is a tiny difference of only 1 mm, so this will barely be visible to the naked eye. In other words, a glossy finish creates just as sleek an effect as a photo on matte acrylic.