Are you looking for an Acrylic splashback? Choose out of more than 100 million photos and we will print each motif in your desired size!
Custom-made: produced according to your own design, personal size and with cut-outs for sockets
Cheapest alternative to tempered glass
High-gloss Plexiglass® of Anti-reflex
Razor-sharp details and vibrant colors
Durable plexiglass with a beautiful depth effect

Shipping from

Friday 22-12-2023
Enjoy 25% OFF (already deducted)
From 11.06 £
Feedback
Great Kitchen splashback! Fantastic choice in designs, easy to install, love it.
Excellent service and quality product. Would recommend.
My shower acrylic splash back looks absolutely amazing,. I have an red sea coral reef scene. The colours are so vibrant and clear. The delivery was suprisingly quick too. Thank you so much. Highly recommended.
Acrylic splashback
Custom-made: produced according to your own design, personal size and with cut-outs for sockets.
Cheapest alternative to tempered glass.
High-gloss Plexiglas® of 5 mm with a beautiful depth effect.
Intense colors with UV protection against discoloration.
Ultra HD print thanks to a high-end eight-color printer from SwissQprint.
Direct print behind 5 mm Plexiglas®.
Razor-sharp details and lifelike colors.
Not suitable for behind a gas stove.
Not scratch resistant.
Easy to stick to the wall.
What is a acrylic splashback?
Splashback made of high-gloss Plexiglas®
A acrylic splashback is a high-quality and budget-friendly alternative to a tempered glass splashback. The photo of your choice is printed through direct printing behind 5 mm thick acrylic glass of very high quality with a high-end eight-color printer from swissQprint, the market leader that offers the very highest quality. Our plexiglass splashbacks have a white layer on the back to bring out the colors and details of the photo. The ultra HD print on high-gloss Plexiglas® has a beautiful depth effect and the splashback itself is professionally cut.
Intense colors on acrylic
The intense colors of the photo are guaranteed to be retained on the plexiglass and are also protected against discoloration. We print every color without mixing colors to avoid a green appearance on the print. We use high-gloss Plexiglas® that is guaranteed to remain clear for up to 30 years. This way you can enjoy your acrylic splashback for many years.
Durable plexiglass
Although plexiglass is a durable material, it is neither heat resistant nor scratch resistant. That is why it is strongly discouraged to place a plexiglass splashback behind a gas stove, in which case it is better to choose a glass splasback. Also, do not clean the splashback with rough materials, such as a scouring pad, to avoid scratches. Still a scratch? Touch up with polishing paste and you won't see it anymore.
Custom made
Our acrylic photo splashbacks are custom made for your interior. During the ordering process, drag the print area of the photo and enter the desired dimensions as well as the number of cut outs for electrical sockets. Send us a detailed plan of your splashback by e-mail after finishing the order. Clearly indicate where the cut outs should be provided and also indicate the exact dimensions for the cut outs. Good to know: the maximum width of one piece of plexiglass is 43,3 inch / 110 cm.
Easy to assemble
You can easily apply the personalized acrylic photo splashback to a clean and smooth wall yourself with the optionally available mounting glue, Pattex 100% Crystal. This adhesive is the best in the test for this material and is therefore highly recommended. After assembling, seal the edges of the splashback with silicone so that no moisture or dust gets behind it.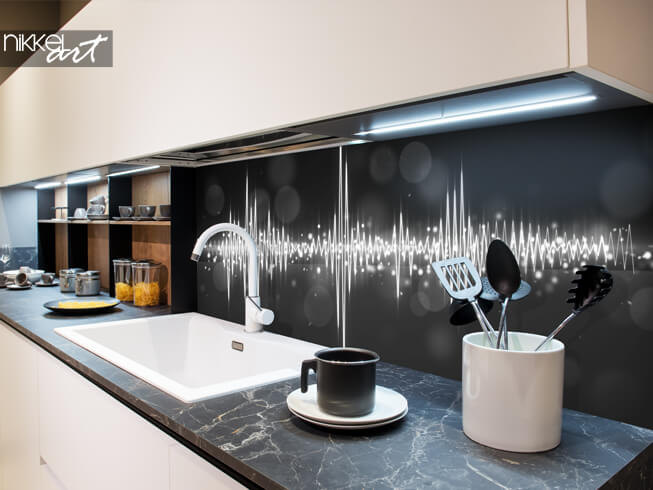 ---
A photo splashback on acrylic
Do you want a kitchen or bathroom that really is the eyecatcher of your interior? Then acrylic glass photo splashbacks are highly recommended. Whether you like rural, modern, vintage or industrial; between our plexiglass splashbacks you will certainly find something that seamlessly matches the style of your interior. Did you know that you can order our photo splashbacks completely customized? From luxurious marble to a weathered wood structure, these instant mood makers guarantee a unique look. Print your own photo on a plexiglass splashback or choose between the beautiful images in our online catalog.
Plexiglass as a splashback in your kitchen
The kitchen is one of the areas where we spend most of our time. Your favorite spot in the house will be even cozier with a personalized acrylic glass splashback. Extensive cooking for the whole family or drinking an aperitif with your friends; the kitchen is so much more than just a place to cook. A plexiglass splashback makes those special moments even more personal. In addition, a photo splashback also protects your wall against water splashes and splashing dirt. A win-win situation if you ask us. Stay in the cooking theme and decorate your kitchen splashback with a photo of oriental spices, exotic fruit or a good glass of red wine to stimulate the taste buds of your guests and stimulate their appetite. Or how about a steaming latte macchiato for your coffee corner? Thanks to the razor-sharp print quality, the scent almost meets you. But of course you can also go for something completely different. A tropical beach or abstract work of art are just a few of the many possibilities to give your kitchen splashback that little bit more. Please note, a plexiglass splashback is not heat resistant and is therefore only recommended for an electric, induction or ceramic stove. With a gas stove, it is recommended to go for a glass photo splashback.
Plexiglass as a bathroom splashback
The bathroom may not be the first place you think of installing a personalized photo splashback, but our Plexiglass splashbacks will undoubtedly change that. They are a nice alternative to traditional ceramic tiles and give your bathroom a personal touch. For example, decorate your shower with a plexiglass photo splashback of a colorful underwater view or romantic sunset. Or take a relaxing bath with a view of the Grand Canyon or Paris at night. With a plexiglass photo splashback you give your morning routine an extra dimension and you start your day in a good mood. Let's face it, brushing your teeth is so much more fun when you have a view of an impressive mountain panorama or paradise beach? If you feel the inspiration bubbling up, you should definitely take a look at the inspiration photos on our website.