There is nothing better than giving your interior a new look. You can do this quickly and easily with a photo on white aluminum. This timeless wall decoration with a matte appearance is the ideal way to create a unique atmosphere in any room, both indoors and outdoors, because aluminum is a durable and weather-resistant material.

Select from our wide and high-quality photo range the photo that best suits you and the decor of your home or business. Color photos such as portraits and landscapes in particular come into their own on white aluminum. Go for a unique panorama, beautiful forest, colorful flower field or artistic portrait to decorate your living room, kitchen, bedroom, office space, terrace and so on.

Enter the desired dimensions and drag the print area to select the part of the photo you like the most. The white parts of the photo are not printed so that the aluminum texture remains clearly visible. This way, the details of your photo on UV-resistant, white aluminum are extra emphasized.
Production time: 4-5 workdays
mehr
weniger
What our customers say about us
Beverley Oates
By: 25-02-2021
I bought some aluminium prints. All extra large. All are gorgeous and arrived in perfect condition. Would definitely recommend
Martin Waterhouse
By: 09-10-2020
Excellent art work, we bought a small one first due to not having any experience with printed aluminium. Looked good so we bought the biggest possible to have in one piece. Haven't fitted it yet.
Nicole Haggett-King
By: 07-10-2020
I was very impressed: good communication and the final product (photo on aluminium) was great! Ill be ordering some more products soon....
ramesh RAJASOORIYAR
By: 29-07-2020
good print and quick
Aluminium prints
Matte appearance without reflection.
Ultra HD print thanks to a high-end eight-colour printers from SwissQprint.
Visible aluminium texture: the white colours of the photo are not printed.
Direct printing on 3 mm thick aluminium.
The intense colours with UV protection against discoloration.
Made exactly to your size up to 43 x 23 in / 110 cm x 60 cm.
Razor-sharp details and lifelike colours.
Weather resistant. Suitable for indoor and outdoor use.
Also available as two-, three- and four-panel.
Select suitable hanging systems during the ordering process.
What is a photo on aluminium?
Intense colours on white aluminium
Our aluminium prints are printed with a high-end eight-colour printer from SwissQprint, the market leader that offers the very highest quality. As a result, the razor-sharp details and intense colours of the photo are retained on the print on white aluminium. The ultra HD print has a matte appearance without reflection. The colours are also protected against discoloration, so that you can enjoy your wall decoration for many years.
Visible white aluminium texture
The white parts of a photo on white aluminium are not printed. This way, the white aluminium texture of the material remains visible in the photo. White parts of a black and white photo and vivid colours of a colour photo immediately catch the eye.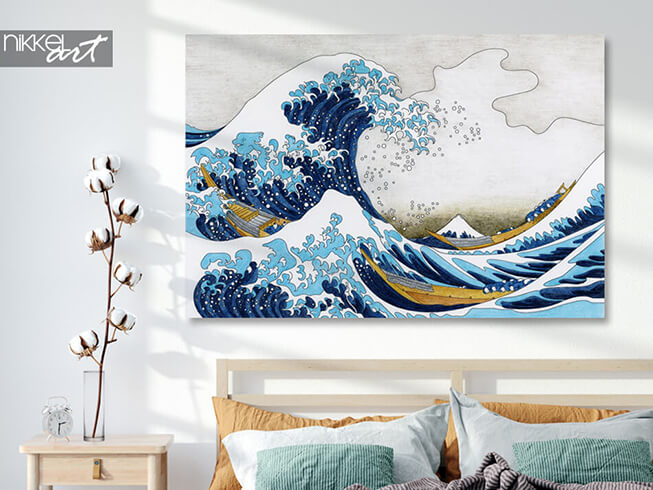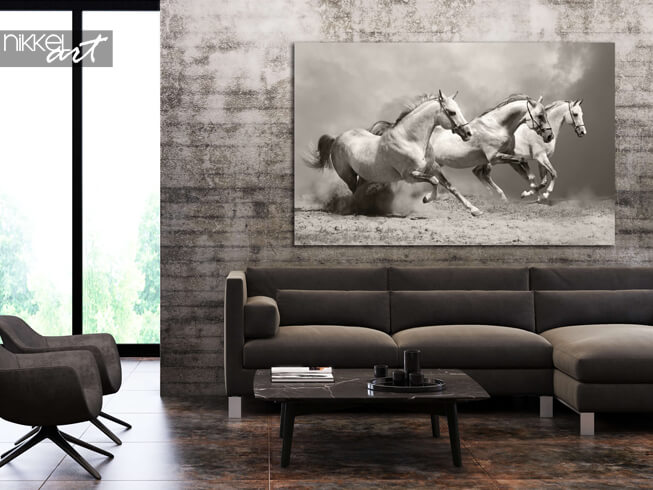 For indoor and outdoor
Aluminium is a weather resistant material. So a photo on white aluminium does not only come into its own inside, but also outside. So don't hesitate to brighten up your patio or garden wall with a photo on aluminium.
Custom made Aluminium prints
Determine the size of your photo on white aluminium yourself. Enter the desired size during the ordering process and drag the print area of the photo to that piece you want to have printed. The maximum size of a painting on white aluminium is 43 x 23 in / 110 cm x 60 cm. Our photos on aluminium are also available as two, three and four panels.
Hanging system of your choice
Hang your wall decoration on white aluminium easily on the wall with one of our hanging systems. You can choose between an aluminium frame that remains invisible from any angle and a clamping system with stainless steel. The difference? The stainless steel spacers with clamping system are clearly visible, while the aluminium frame at the back of the painting remains invisible from any viewing angle.

For large formats, we recommend the 20 mm wide aluminium frame, which is guaranteed to be fixed straight to the wall with optional screws or hooks, to prevent the aluminium from bending. We provide paintings on white aluminium in a small format with a free hanging system that consists of one or more plates and bumpers to keep the photo at an equal distance from the wall. Whichever solution you choose, with one of our hanging systems your photo on aluminium is guaranteed to hang professionally on the wall.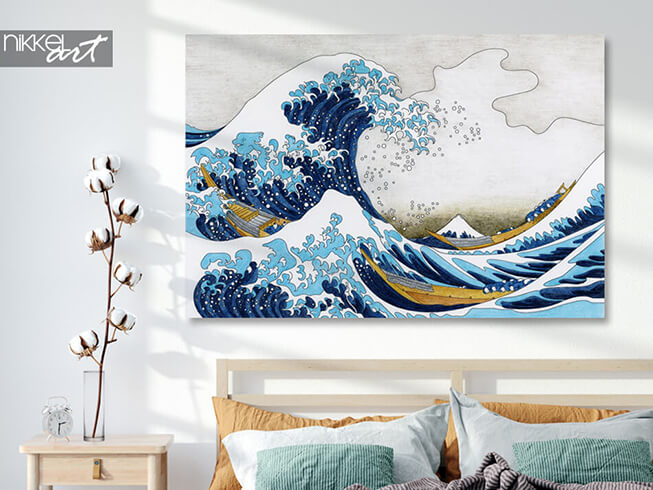 Multi-part paintings on aluminum
Aluminium prints
Aluminium prints 2-panel
Aluminium prints 3-panel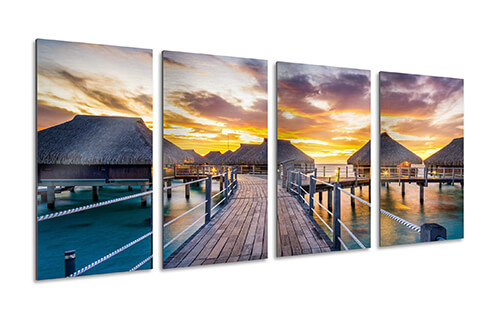 Aluminium prints 4-panel
---
Print your own photo on aluminium
With an aluminium print you have a unique work of art in your hands. The coarse texture has a distinct look that gives your photo a tough edge. An aluminum painting will therefore do well in an industrial or modern interior. Thanks to the beautiful matte finish and professional finish, the artworks seem to come straight out of a museum. In our wide range of aluminium prints you are guaranteed to find the perfect eye-catcher to decorate your home or business. Accentuate its sleek look by choosing an invisible hanging system.
Choose between white or brushed aluminium
The quality of our aluminum prints will exceed all your expectations. The white parts of your photo are not printed, which ensures that the underlying texture of the aluminum plate remains visible. If you opt for a photo on brushed aluminum , the silvery sheen of the metal will shine through. Be surprised by the special effect and special view from any angle. You can also have your photo printed on white aluminum. In this case, the aluminum plate has a white top layer that makes light tones and vibrant colors extra eye-catching.
---
Art on the patio: aluminium paintings
One of the great advantages of aluminum prints is that you can also hang them outside. The material is shape and weather resistant. So feel free to brighten up your patio with an aluminium work of art. Worried that your colours will fade? Not necessary. Thanks to our UV-resistant ink, your photo will still shine like new for years to come. Please note, the optionally supplied aluminum hanging system is not resistant to weather influences, so choose stainless steel spacers if you want to hang your aluminum print outside.
Order a custom aluminium print
Do you want to make an impact with an aluminium print of a large format? Or spread one photo over several panels? From a famous work of art to a self-made photo, we will print your aluminum print to your needs. Frame your print according to your taste and determine the dimensions to the nearest centimeter for a work of art that perfectly fits your interior. Order your personalized aluminium print today and receive it at home later this week.