SELECT
Search by category to find the perfect image for your interior in our extensive database.
PERSONALIZE
Adapt the dimensions and framing of your favourite photo to your liking.
SHOP
We offer a safe and easy checkout, plus a super fast delivery.
ENJOY
Follow the instructions to hang your wall decoration and enjoy!
---

A photo on canvas is the classic wall decoration all times. With this timeless interior accessory you add a personal character to any room.
Brighten up your living room with a custom made canvas featuring a photo of a beautiful forest, a unique panorama, an iconic skyline or an artistic portrait. Or decorate the walls of your home or business with animals, flowers, waterfalls and more on a two-, three- or four-panel canvas. Whatever look you want to achieve, there is a photo on canvas for every atmosphere and every style.
In our extensive database of millions of high-quality photos, you will find a lot of inspiration to create a cosy atmosphere in every room, from kitchen to bedroom. Choose the photo that best suits you and your interior and personalize your canvas by entering the desired size and dragging the print area. The glossy finish and vibrant colours of your photo on canvas are protected by a UV resistant layer. This way your wall decoration will continue to shine in full sun.
Photo world
Product details
Shipping costs & Delivery time
Canvas prints
Canvas with the classic canvas structure.

Stretched directly onto FSC®-certified wooden stretcher of 2 or 4 cm.

Intense colours with UV protection against discoloration.

The edges of the photo are mirrored so that the entire photo is preserved.

Free hanging system.
Precisely custom made to your size up to 200 x 140cm.

Razor-sharp details and lifelike colours.

Also available as two-, three- and four-panel.

High quality thanks to environmentally friendly HP Latex printers.
What is a photo on canvas?
High-quality print on canvas
A canvas prints is timeless and is reminiscent of a classic painting. Your photo of your choice will be printed on a canvas with the classic canvas structure. We do this with an environmentally friendly HP Latex printer. This professional and high-quality canvas print, the classic wall decoration of all times, fits into any interior and any room.
Stretched on a wooden stretcher
We stretch the canvas on an FSC®-certified wooden stretcher with a convex edge so that the canvas does not come into full contact with the wooden frame to prevent wrinkles in the canvas. You can choose between a wooden stretcher of 2 or 4 cm. With both finishes, the edges of the photo will be mirrored so that the entire photo is guaranteed. The wooden stretcher frame is provided with wedges in each corner at the back with which the canvas can be tensioned if it loses tension over time due to external factors.
Intense colours on canvas
The colours of the photo are the colours of the print on canvas. The intense colours of your wall decoration on canvas are guaranteed to be preserved and are protected against discoloration. This way you can enjoy your high-quality painting on canvas for many years.
Custom made
Your interior is unique, therefore, determine the size of your photo on canvas yourself. Enter the desired size during the ordering process and drag the print area of the photo. The maximum size of a painting on canvas is 200 x 140 cm and the minimum size of wall decoration on canvas is 20 x 20 cm. Our photos on canvas are also available as two, three and four panels.
Hanging system of your choice
Our photos on canvas come standard with a horizontal cord on the back of the wooden stretcher, this is to maintain the tension of the canvas. The way to hang the canvas to the wall, is to put the wooden frame onto the screws/hooks. You also have the choice of three optionally supplied mounting sets to hang the wall decoration on canvas directly on the wall: hooks and plugs, screws and plugs or an adjustable self-adhesive nail.
Multi-part paintings on canvas
Canvas prints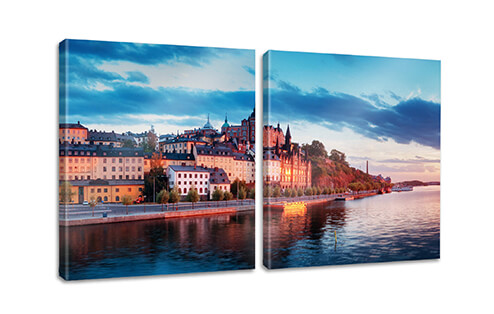 Canvas prints 2-panel
Canvas prints 3-panel
Canvas prints 4-panel
What will the shipping costs be?
We offer a free delivery for every order with an amount higher as £95.
If the order will be less then £95, we charge a shipping costs of £9,33.

These prices are only valid for shipments within the mainland of the UK, they are also VAT included.

If the shipment takes place outside the UK or to an Island, we have to check what the shipping cost will be. In that case, you will receive an e-mail concerning the shipping costs that must be paid.
What are the delivery times?
In the chart beneath you can see the delivery times of our products


Delivery times can be postponed due to the holidays.

All our goods are shipped with great care and in-house with GLS, PostNL, TNT or Fedex.

Delivery time in case you order several different products.
If your order contains multiple products, the delivery time of the product with the longest delivery time applies. For example: photo wallpaper (2 working days) + Kitchen splash back in glass (20 working days) = a delivery time of 20 working days. We do everything we can to produce your order as soon as possible and to prepare it for shipment.

View all delivery times here
Beoordelingen
Richard
Door: 07-01-2021
Love my large canvas print. Brilliant quality and would definitely recommend Nikkel Art. Thanks
Polly
Door: 25-11-2019
Lovely pictures, exactly as photo colours on website. Bought 2 large canvas prints, really clear and well wrapped in transit. Also bought glass splashback, which is fabulous. Is a risk when arent able to view in advance but was delighted with its brightness and excellent quality. No concerns about recommending, if you find a picture you like, itll be good in which ever medium you choose.
Philip Ash
Door: 20-11-2019
Extremely happy with the quality of the products ordered and with the after sales experience. Delivery was very efficient using dpd 5 Stars from myself and many thanks.
Mark Ferguson
Door: 31-10-2019
Found this website by chance..so glad I did, amazed at amount of choice, decided to get an unusual picture of forest ferns that took my eye. Had it a few weeks now and had nothing but complements about it. Quality & service second to none, thank you.