© Alexander Raths

Stellen Sie den Rahmen so ein so wie Sie den Druck erhalten möchten.
Ihr Produkt wird kein Wasserzeichen besitzen.
1. Enter dimensions:
Shape
rechthoek / vierkant mm
2. Choose material:
3. Options:
4. Effects:
Order now and we will ship you order on
Friday 26-03-2021
---
100% safe payment
2 year guarantee
Fast and FREE delivery from £ 95
Produced by us with the utmost care
£6 license fee image included
More info
Photo splashback made of tempered glass
Your photo of your choice is printed via direct printing behind 6 mm thick tempered glass of high quality with a high-end eight-color printer from SwissQprint, the market leader offering the very highest quality. Our printed kitchen splashbacks are provided with a white layer on the back of the glass to emphasize the intense colors and razor-sharp details of the photo. The ultra HD print on tempered glass has a beautiful depth effect and the edges of the kitchen splashback are professionally polished.
Intense colors on tempered glass
The intense colors of the photo are guaranteed to be retained on the tempered glass print and are protected against fading. You can choose from two types of tempered glass: tempered glass with a light green appearance and virtually colorless tempered glass. Tip: do you have a photo with many white parts or a black and white photo? Then choose the colorless variant, the extra clear tempered glass, for the best result.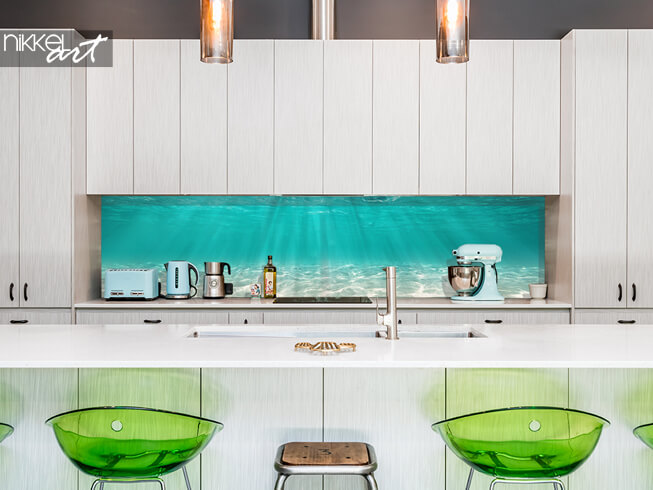 Resistant to heat and scratches
Our glass kitchen splashbacks are scratch-resistant and heat-resistant up to 200 ° C. As a result, kitchen photo splashbacks made of tempered glass are not only decorative but also functional: they protect the wall behind the sink from splashing water and the wall behind the stove from splashes of fat and heat. A 2-in-1 solution that can take a beating!
Custom made
There is only one kitchen like yours. That is why every kitchen photo splashback is completely custom made. Design your own glass kitchen splashback by, among other things, dragging the print area of the photo during the ordering process and entering the desired dimensions as well as the number of cut outs for sockets. Send us a detailed plan of your splashback by e-mail, after finishing the order. Clearly indicate the places where the cut outs should be provided. Good to know: the maximum size of one piece of tempered glass is 160 x 120 cm.
Easy to assemble
You can easily apply the kitchen photo splashback to a clean and even wall yourself. This is best done with the optionally available mounting glue, Pattex 100% Crystal. This adhesive is highly recommended as it is the best in the test for this material. After application, seal the edges of the splashback with a heat resistant silicone so that no moisture or dust gets behind it.
Feedback
charlie
By: 22-01-2021
I love it and will recommend to my friends
Martin Stevenson
By: 19-12-2020
Stunning splashback. I did not realise it would come in two pieces but it doesnt matter. Its great. We have a tropical beach scene and in a time when you cant go there, it is the next best thing. Also pleased to get it before this Brexit thing people are talking about happens . . .
Natalie Laws
By: 09-10-2020
The team at Nikkel-art were superb from start to finish. I sent them an image Id like as a splash back, they showed me where I could access the image which was then sent via wee transfer to them. I absolutely love my splash back, its the centre piece of my kitchen. I wouldnt hesitate to recommend the company. Top work!
Maureen Leeks
By: 28-04-2020
Wow we are really impressed with our seaview kitchen splashback. It came very well packaged and was easy to put up. Well done nikkel art.. we would highly recommend your website.
Give your kitchen a new look with a glass splashback
Forget about ceramic tiles! A glass photo splashback is a much more original way to personalize your kitchen. Whether you only need a splashback for behind the stove or want to cover the wall over the full width, you can order our glass kitchen splashbacks in all shapes and sizes. Need cut outs for sockets? No problem. You indicate where exactly they should be, we deliver your custom made kitchen splashback.
Glass kitchen splashbacks: decorative and functional
Our photo kitchen splashbacks are heat resistant up to 200 ° C, so you can use them for both an electric, induction or ceramic stoves as well for behind a gas stove. The hardened glass has a high scratch resistance and is therefore not only decorative but also functional. You can opt for glass with a light green appearance or almost colorless glass. The latter option is recommended for black and white kitchen splashbacks or when the chosen photo contains many white parts.
Kitchen splashback with prints of the highest quality
To custom made kitchen splashbacks, we use the very best materials and the latest techniques. This way we guarantee that the intense colors and razor-sharp details of your photo are preserved. Your print is printed on the back of the glass kitchen splashback and then provided with a white layer, which creates a beautiful depth effect. Finally, the edges of the photo splashback are professionally polished for a flawless finish.
Hang your glass photo splasback yourself
A glass photo splashback is an easy way to revitalize your kitchen. You can aplly it to the wall without any problems with the optionally supplied glue. After that, you only need to finish the edges of your kitchen splashback with heat-resistant silicone. Let it dry for a while and ready!
Countless photo ideas for your kitchen splashback
Freshly baked bread, colorful cocktails, Mediterranean herbs ... decorate your kitchen splashback with a photo that highlights your love for food. Or go for a wide panorama that makes you dream away to more exotic destinations. And why not an inspirational text on your glass back wall? A motivational saying or your favorite quote that reminds you of what is important every day. Do you have an original idea for your glass kitchen splashback? Let us know and we will see what we can do to make your dream come true.
Kitchen splashback, Glass kitchen splashback, Kitchen splashback, Kitchen splashback, Kitchen splashback design, Glass kitchen wall with print, Glass kitchen splashback
Printed bathroom splashbacks Printed Tiles Paintings on glass