Photo world
Product details
Shipping costs & Delivery time
Printed roller blinds
Modern window decoration.

Translucent or blackout fabric.

Intense colors with UV protection against discoloration.

Ultra HD print thanks to a high-end eight-color printer from SwissQprint.
Razor-sharp details and lifelike colors.

Custom made up to 243 x 300 cm.

Print on the inside or outside.

Easy to assemble yourself.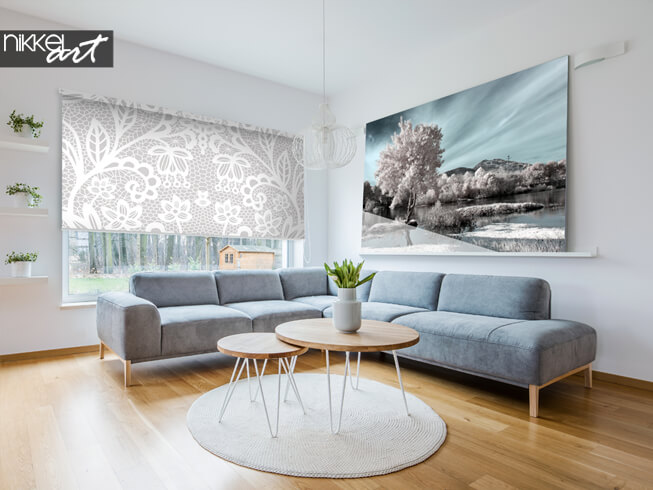 What is a printed roller blind?
Intense colors on photo roller blind
The colors you see on the photo are the colors that are printed thanks to the high-quality print with a high-end eight-color printer from SwissQprint. Details remain razor-sharp and colors will be lifelike. In addition, the intense colors of the photo on the roller blind are protected against discoloration. This way you can enjoy your personalized window decoration for many years.
Translucent and blackout blinds
Determine the type of fabric for your printed roller blind in function of the space where it will be assembled. Go for a translucent fabric with a white back for rooms where it does not need to be completely dark. And choose a blackout fabric with a grey back for rooms where it needs to be completely dark, such as the bedroom.
Print on the inside or outside
Have the photo printed on the inside or outside of the roller blind according to the effect you want to create. With a print on the inside you can enjoy the print from your interior. A print on the outside, on the other hand, is only visible from the outside. Tip: do you have a business? Then choose a photo roller blind with the logo of your business on the outside. The ideal way to advertise.
Custom made
Our photo blinds are made to measure for your window. Follow the measuring instructions on our website carefully and enter the dimensions during the ordering process. Good to know: the maximum size of a photo roller blind is 243 x 300 cm.
Easy to assemble
Photo blinds are easy to assemble yourself. Decide for yourself how you want to mount your roller blind with photo: as a recess fitting, as a exact fitting or with clamp mounting. Depending on your choice, you will have to follow a different measurement instructions.
What will the shipping costs be?
We offer a free delivery for every order with an amount higher as £95.
If the order will be less then £95, we charge a shipping costs of £9,33.

Our products are shipped from Belgium. Please note that for international shipments to destinations outside the European Union additional import duties might be charged.

These prices are only valid for shipments within the mainland of the UK, they are also VAT included.

If the shipment takes place outside the UK or to an Island, we have to check what the shipping cost will be. In that case, you will receive an e-mail concerning the shipping costs that must be paid.
What are the delivery times?
In the chart beneath you can see the delivery times of our products


Delivery times can be postponed due to the holidays.

All our goods are shipped with great care and in-house with GLS, PostNL, TNT or Fedex.

Delivery time in case you order several different products.
If your order contains multiple products, the delivery time of the product with the longest delivery time applies. For example: photo wallpaper (2 working days) + Kitchen splash back in glass (20 working days) = a delivery time of 20 working days. We do everything we can to produce your order as soon as possible and to prepare it for shipment.

View all delivery times here
What our customers say about us
Kara
By: 23-04-2021
Easy process, god communication and a great, individual style blind at the end. Fitted window perfectly and really sets the room off! I'll be ordering more in the future and highly recommend, thank you Nikkel-Art.
Graham - Dorset UK
By: 20-04-2021
Good product, good communication, would use again
Anna
By: 09-04-2021
Excellent service and a beautiful rollerblind! Wonderful designs to choose from and we are so pleased with the choice we made.
Emily
By: 07-04-2021
Amazing roller blind! The design is fabulous and just what we wanted
---
Order customized photo blinds
Have you ever thought of photo blinds to decorate your interior? The ideal solution for rooms where there is no more room for a work of art on your walls. Views of the Himalayas, Grand Canyon or African Savannah; anything is possible with a photo roller blind! You choose the view, we print your custom photo blind. Do you prefer a relaxing forest, splashing waterfalls or colorful flowers as a roller blind? Let us know what your wishes are and we will certainly find a suitable photo in our online catalog.
Translucent or blackout photo blinds?
Are you looking for a photo blind to provide your living areas with a little more privacy? Then choose translucent roller blinds. The white back lets in sunlight but keeps out prying eyes. For example, these photo roller blinds are a good choice for the kitchen, living room or bathroom. In short, spaces where you want to limit the view. Blackout blinds are recommended for rooms where it must be completely dark, such as the bedroom. The grey blockout material on the back prevents you from being woken up by the sunlight in the morning. So think carefully in advance which function your photo roller blind should fulfill.
Print on the inside or outside of your photo blind
You can choose to have your photo printed on the inside or outside of your roller blind. Ask yourself on which side the print should be visible. Do you want to admire your photo roller blind from your interior? Then go for a print on the inside. If you choose the translucent variant, the print on your photo blind will also be slightly visible from the outside. Especially when you illuminate your interior at night. With a print on the outside, the photo on your roller blind will only be visible from the outside. This is an interesting option for, for example, restaurants, hairdressers, shops etc. . With a photo blind in the theme of your business, you not only create atmosphere, but passers-by also immediately know what you are offering.
How do I mount my photo roller blind?
Finally, you only have to provide the dimensions of your photo blind. But how do you measure it? Everything depends on the way you want to hang your photo roller blind: on the window frame, in the window frame or with clamp mounting. Select the desired method and use the appropriate measurement instructions to order your custom photo blind. Spread one photo over several blinds? That is also possible! Check the option "multi-part" and choose the number of blinds and the respective widths.
---