Your home is more than a house. So choose an interior that really suits you. With self-adhesive wall murals you can easily personalize any room in your house.

Browse our wide range of millions of high-quality photos and select the photo that suits you and your interior design. From a vintage world map or beautiful forest to wild animals. Our range contains the suitable self-adhesive photo wallpaper for every style, every room and every atmosphere. You determine the dimensions yourself by entering the desired size and dragging the print area. This wall decoration is guaranteed to fit on your accent wall.

Creating a new look in your living room, kitchen or bedroom has never been easier. Thanks to a self-adhesive layer, you can easily hang this type of photo wallpaper on the wall without wallpaper glue. Moreover, self-adhesive photo wallpaper is supplied in strips so that you can immediately get started to realize the interior of your dreams.
Production time: 4-5 workdays
mehr
weniger
What our customers say about us
Ian Florence
By: 14-12-2020
Very very pleased. Great finish great product great service. Highly recommended A1
George Duncan
By: 13-03-2019
great quality product at reasonable price. Worth going for the self stick product. Photographic quality of high standard. Had to wait some time for the product,but well worth it. Would certainly recommend.
Self-adhesive wall murals
Self-adhesive photo wall murals is a beautiful, smooth and very sturdy material.
Intense matte colors with UV protection against discoloration.
It is resistant to scratches.
Choose from a rectangular or rounded shape.
The photo wall murals is non-woven, does not contain PVC and weighs approx. 200 g / m².
No glue required: one side has a self-adhesive layer.
Clean with a soft dry cloth if necessary.
Easy to hang: remove the foil on the back and stick the wall murals to the wall.
Each photo wall murals strip is professionally trimmed and has an 8 mm overlap strip.
When the width of the non-woven photo wall murals is, for example, 260 cm, the photo wall murals will consist of three identical parts.
What is self-adhesive wall murals
High-quality self-adhesive photo wall murals
Our custom made self-adhesive wall murals consists of non-woven material without PVC, weighs 200 g / m² and can, if necessary, be dusted with a soft, dry cloth. This environmentally friendly photo wall murals has a self-adhesive layer on one side of the wall murals. So you don't need glue to decorate your interior with this scratch-resistant photo wall murals with a matte finish.
Intense colors are retained
The colors in the photo are the colors on the photo wall murals. Because thanks to a high-quality printing technique, all colors are guaranteed to be retained on the high-quality wall murals. And that for many years because the intense colors of this wall decoration are protected against discoloration.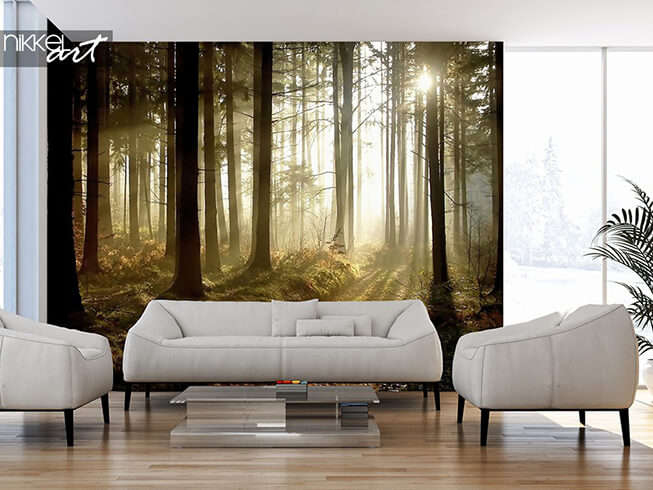 Easy to apply without glue
You can easily apply the professionally trimmed self-adhesive photo wall murals to a clean, dust-free and smooth wall. And that without glue. Remove the foil little by little from the self-adhesive layer on the back of the photo wall murals. Glue the wall murals carefully to the wall, taking into account an overlap strip of 8 mm. Work accurately for a professional result.
Selective focus
A photo can be taken with the selective focus photo technique, also known as portrait mode. Certain parts of a photo are thus brought into sharper focus. The other parts of the photo are seen as a background, making them less sharp, they are also printed as such. This is not a printing error as the original photo was taken with this photo technique.
Custom made self-adhesive wall murals
Custom made self-adhesive photo wall murals, it means that every photo from our database can be made to measure. No matter how small or how big you want the photo wall murals. The only limit is the size of your walls.

When choosing a photo from our huge database, keep in mind that the selected image will be enlarged in proportion to the size of your wall. That means that every element of the photo will be enlarged.
---
Self-adhesive photo wall murals, completely custom made
With the self-adhesive photo wall murals, you can change your interior effortlessly. No hassle with glue, paint or wall murals rolls. Remove the protective film and stick your wall murals to the wall. It couldn't be easier. With us you not only have an incredibly extensive choice, but you can also order your self-adhesive wall murals completely custom-made. An accent wall or a full wall? You provide the measurements, we deliver a high-quality print. Do you want to design a self-adhesive wall murals with your own photo? That's possible! You can easily upload the photo you want to our website to get started.
This is how you apply self-adhesive photo wall murals
Make sure the wall is clean, smooth and dry before applying your self-adhesive wall murals. Otherwise, your self-adhesive photo wall murals could come off after a while. It is also best to get rid of holes and irregularities, because they will remain visible. You can then apply the photo wall murals by carefully removing a piece of the protective film. Ask a friend to help you with this. While you are gluing the wall murals to the wall, the other person can smooth the wall murals with a felt trowel by removing the air bubbles under the foil along the side. Then remove another piece of protective film while pulling the self-adhesive photo wall murals tight and repeat the above procedure. If you order a large size, your self-adhesive photo wall murals will be delivered in several strips. In that case, you have to take into account an overlap of 8 mm. Always start on the left and make sure that the print fits nicely.
Self-adhesive wall murals for any style
Whatever room you wish to personalize, we help you to decorate it in a unique way. From kitchen to playroom, our self-adhesive photo wall murals turns that accent wall into a real eye-catcher. Determine the atmosphere you wish to create and choose from our huge selection of self-adhesive wall murals. Do you like an authentic look? Self-adhesive brick wall murals is a real classic. Thanks to the razor-sharp print, the print also appears very realistic. Are you looking for a photo that matches your Scandinavian style? Then our self-adhesive marble wall murals is undoubtedly for you. Luxurious, relaxing and completely on trend. Self-adhesive cork wall murals is also doing very well these days. The ideal choice for those who love natural materials and a serene look. Whichever self-adhesive photo wall murals you choose, we certainly have an option that fully matches your style and personality.